Accelerating the Industrial Digital Transformation 
The rapid global digital transformation or Industry 4.0 impacts all companies, collaboration, manufacturing networks and partnerships within the field of production technology. This transformation is reshaping the competitive landscape by bringing fundamental changes to established industries, and innovation to transform the value chain is becoming ever more important.
Interdisciplinary and multistakeholder win-win partnerships between start-ups, corporates and academia is the key to accelerate innovation across manufacturing networks. 
The dynamic Tech4Growth workshop series connects innovators with peers to learn about collaboration models and allow participants to gain feedback from peers on specific technology and innovation challenges of their own. The series will cover trends on efficiency and competitiveness of industrial operation, the impact of robotics in automation, and IoT and AI on value chain optimization across industry sectors like, Oil and Gas, ICT, Watches and Manufacturing.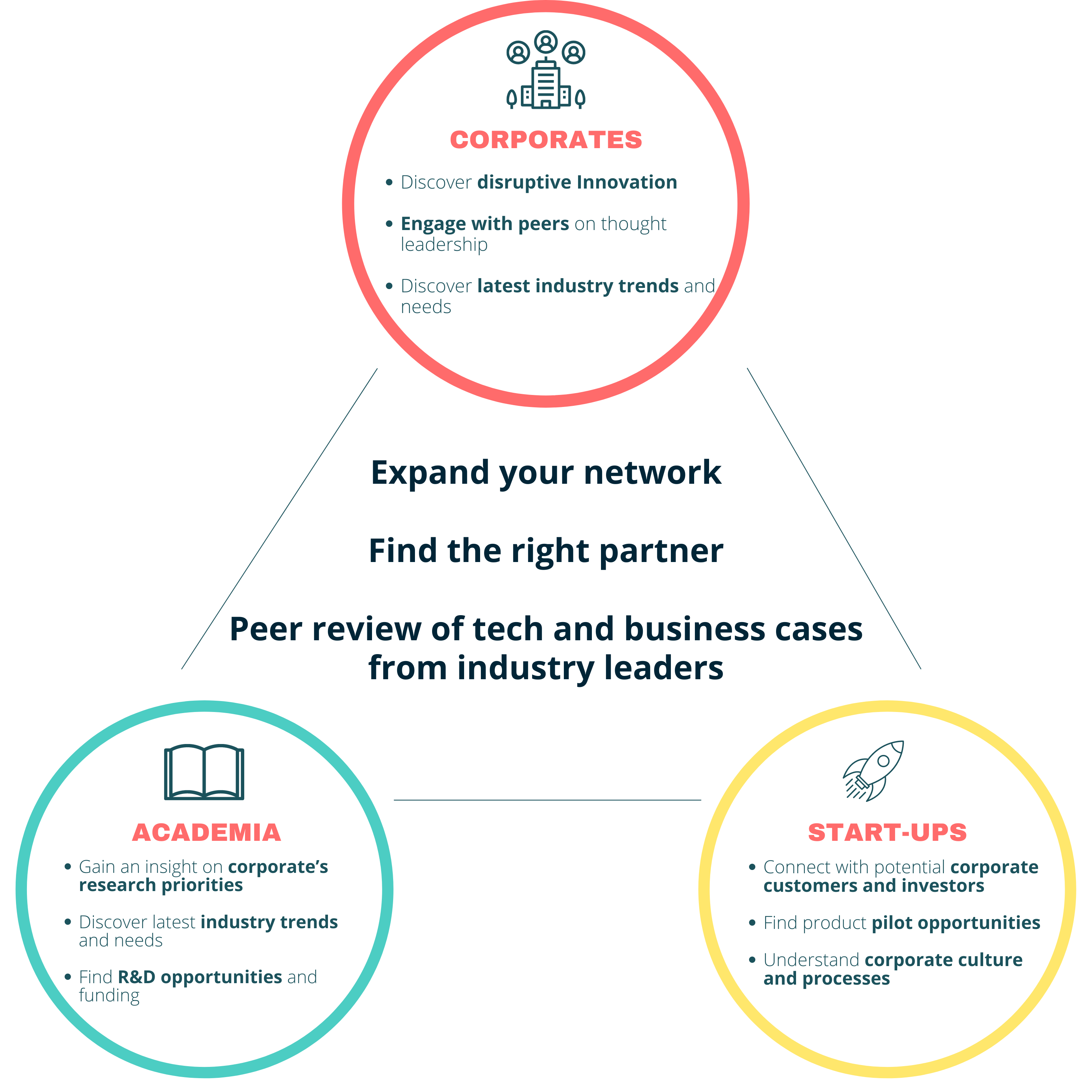 This workshops series is for high tech start-up founders, corporate senior executives and university professors / and senior scientists active in Industry 4.0 sector to ensure relevant collaboration and exchanges (no service providers). Seats are limited and priority access will be given to the mentioned profiles, as we would like the exchanges and collaborations during the workshops to be as meaningful as possible to all participants.
The 5 hybrid workshops are complimentary. The final physical session will be available at a fee. 
Nov 1

PARTNERING FOR SUCCESS
Speakers

1 PM - 5:00 PM

HYBRID

Overview, landscape and trends of Industry 4.0. Review of strategic benefits and challenges of collaboration models between start-ups, academia and corporates.
Lan Zuo-Gillet, EPFL Innovation Park , Raphael Rollier, Swisstopo
Nov 4

COMMERCIAL PARTNERSHIPS DEEP DIVE
Speakers

11:00 AM - 1:00 PM

ONLINE

Learn about start-up strategies for establishing commercial and procurement partnership with corporates from start-up Akselos. Hear directly from Swatch Group about the benefits and success of their start-up partnership program.
Jean-Luc Bazin, Swatch Group , Thomas Leurent, Akselos, Massimo Lucchina, Cysec SA
Nov 8

TECHNOLOGY CO-DEVELOPMENT DEEP DIVE
Speakers

11:00 AM - 1:00 PM

ONLINE

Explore how to drive the digital transformation through co-development. You will hear the co-development story of start-up Miraex and Buhler Group and discover best practices for R&D with Academia.
Thierry Duvanel, Buhler Group , Oliver Muller, Miraex, Nicolas Loeillot, Innosuisse Expert
Nov 10

CORPORATE VENTURES FUND DEEP DIVE
Speakers

10:00 AM - 5:00 PM

ONLINE

Find out what makes an investment strategy successful. Hear the investment story from two perspectives, Shell Ventures and start-up Akselos. You'll also hear about strategies for corporate buy-out and the best practices in both technology integration and company acquisition.
Peter Van Giessel, Shell Technology Ventures, Thomas Laurent, Akselos, Lan Zuo-Gillet, EPFL Innovation park
Nov 12

KEY LEARNINGS AND NETWORKING EVENT
Speakers

10:00 AM - 5:00 PM

IN PERSON

In this last session you'll hear a keynote presentation from Xavier Comtesse on the best practices and examples of partnership collaborations for Industry 4.0. Also, you will get the opportunity to gather peer feedback from your own specific partnership case.
Xavier Comtesse, Manufacture Thinking, Lan Zuo-Gillet, EPFL Innovation park, Raphael Rollier, Swisstopo, Massimo Lucchina, Cysec SA, Nicolas Loeillot, Innosuisse Expert
Lan Zuo Gillet
Deputy managing Director EPFL Innovation Park
Massimo Lucchina
Member of Innovation Council
Raphael Rollier
Head of Innovation and Product Management
Simone Theiss
EPFL Innovation Park