Partnering for High-Tech Innovation in Finance
Although times may be uncertain, one thing remains true. There's a simple power in people coming together.
EPFL Innovation Park and Innosuisse bring you Tech4Growth Finance workshop series on August 26th, September 1st and September 2nd, 2022 with a great lineup of speakers and decision makers, connecting start-up founders, corporate innovators as well as academic professors to learn about collaboration models and best practices.
Join the leaders from the Swiss FinTech ecosystem for 2 content packed days where you can hear from key players to share their experience about how to build win-win Start-up-Corporate partnerships to address challenges in digital transformation, personalized banking, regulatory compliance and digital asset management, and to drive the global financial industry forwards.
Whether you are an executive in a bank, a trading company, a founder of fintech start-up or cutting-edge tech player, come and join the Tech4Growth Finance workshop series, where you will build strong business network, learn from your peers, identify new opportunities of innovation, and walk away with suggestions and approaches for your next partnership plan.
This series focuses on the innovation in finance and will cover the following topics of AI, Opening Banking, CBDCs , DeFi, Embedded Finance, Fraud, AML, digital transformation and more!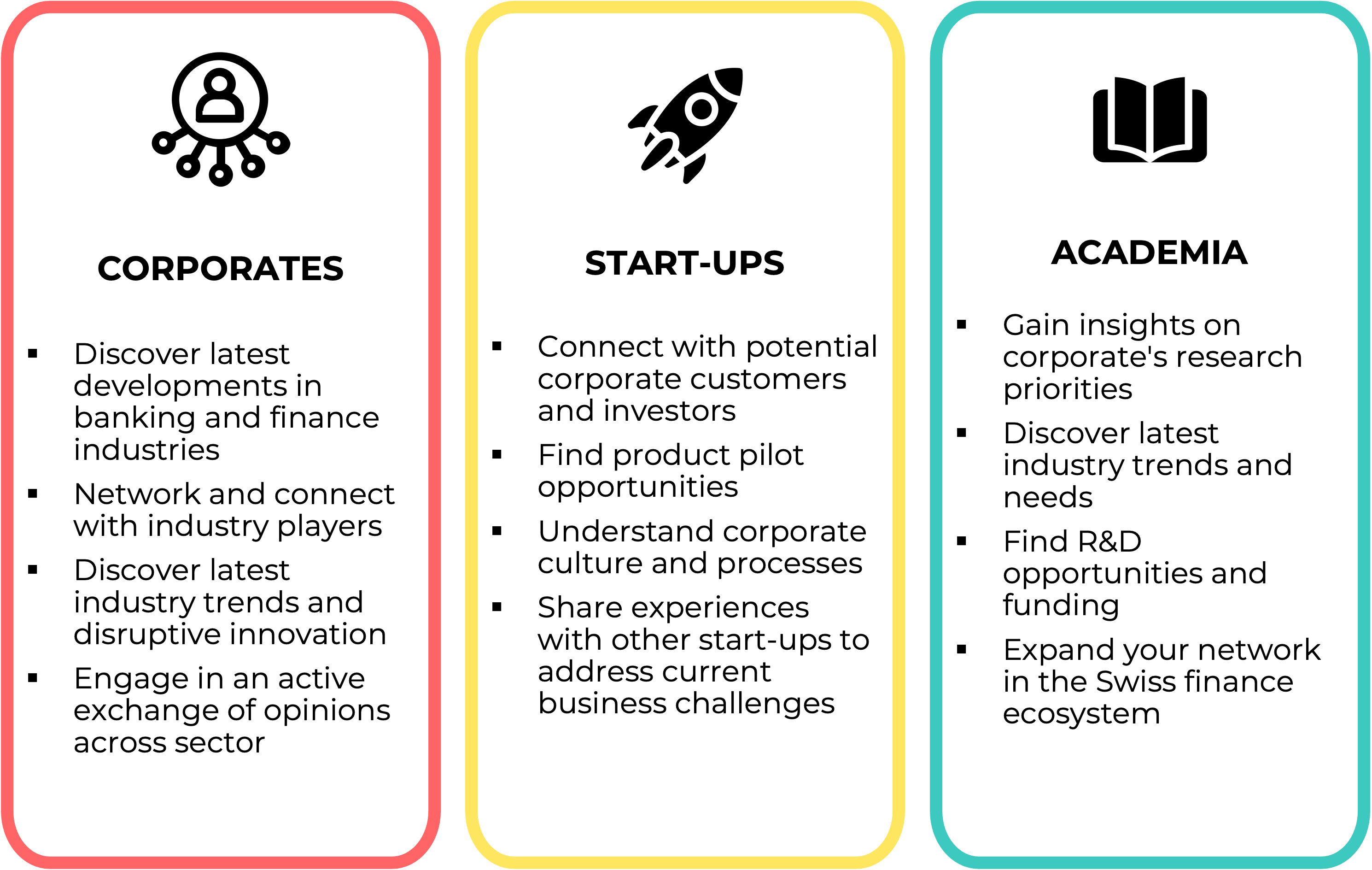 "The Tech4Growth Finance conference stood out with a focus on hands-on discussion. I very much liked the openness and interest in what needs to be addressed to make startup-corporate collaboration work. Really enjoyed the format, openness, and discussions!"                                                                                            
"Tech4Growth provided us a great opportunity to reconnect with a management contact within one of our banking clients. They facilitated meetings between us that have given new avenues for our collaboration together with a view to significantly advance the current solution and broaden the scope. We are very grateful to Tech4Growth to facilitate this open exchange so we could have some honest and insightful discussions and re-think our partnership! And what a cool event with so many nice insights and open conversations!"
"Was a great occasion to meet with peers in a unique setting, highly enjoyed the informal and inspiring atmosphere 👍! Great presentations and inspiring discussions!"
"Exciting topics were discussed during the sessions, it was awesome to see all that creativity in Switzerland! We learned as much from corporate than passionate, dynamic and agile start-ups."
"The leading place to exchange ideas on topics such as WealthTech, Regtech or Blockchain. There is no better place to exchange ideas so informally with key decision makers. The basis for successful business."
"I thought it was a great event to have an honest conversation with big corporations. Usually, it is quite complicated to communicate with key people within large organizations, and this event allowed us to do just that."
"This was definitely the most positively surprising event. The organisation was great, the speakers were open, transparent, and thoughtful. Thank you again for this immersive experience in the Swiss Fintech world!"
"The format of Tech4Growth is perfect, smaller but very senior and highly engaged group. For the ones that are fed up with product pitches at events and seek real innovation and open exchange."
"Attending Tech4Growth was a fantastic opportunity to share knowledge with fellow professionals in the fintech space and to gain more insights into the bank's processes when looking at opportunities to collaborate with start-ups or invest in them. I would highly recommend corporates to attend to get exposure to a wide array of technological solutions. Fintech professionals can also count on their peers and on corporate attendees to provide very valuable feedback and food for thought during the workshops."
"Connecting with the ecosystem and rapidly meeting people. It gives a first level of networking and allows to go further from there."
Lan Zuo Gillet
Deputy managing Director EPFL Innovation Park
Jean-Pierre Therre
Corporate Resilience Advisors Ltd
Inna Francis
EPFL Innovation Park
Simone Theiss
EPFL Innovation Park