Industry 4.0 Accelerating the Industrial Digital Transformation 
The rapid global digital transformation or Industry 4.0 impacts all companies, collaboration, manufacturing networks and partnerships within the field of production technology. This transformation is reshaping the competitive landscape by bringing fundamental changes to established industries, and innovation to transform the value chain is becoming ever more important.
Interdisciplinary and multistakeholder win-win partnerships between start-ups, corporates and academia is the key to accelerate innovation across manufacturing networks.
The dynamic Tech4Growth partnering workshops are part of the networking events series empowered by Innosuisse and EPFL Innovation Park, connecting start-up founders, corporate innovators as well as academic professors to learn about collaboration models and best practices.
This series focuses on the digital transformation of industry, where new technology such as industrial robotics, IoT, AI and data analytics are playing an increasing important role and will cover the following topics:
• successful technology transfers
• how to run joint R&D projects
• how to build win-win commercial partnerships
• how to make/get strategic investment and prepare a successful merger and acquisition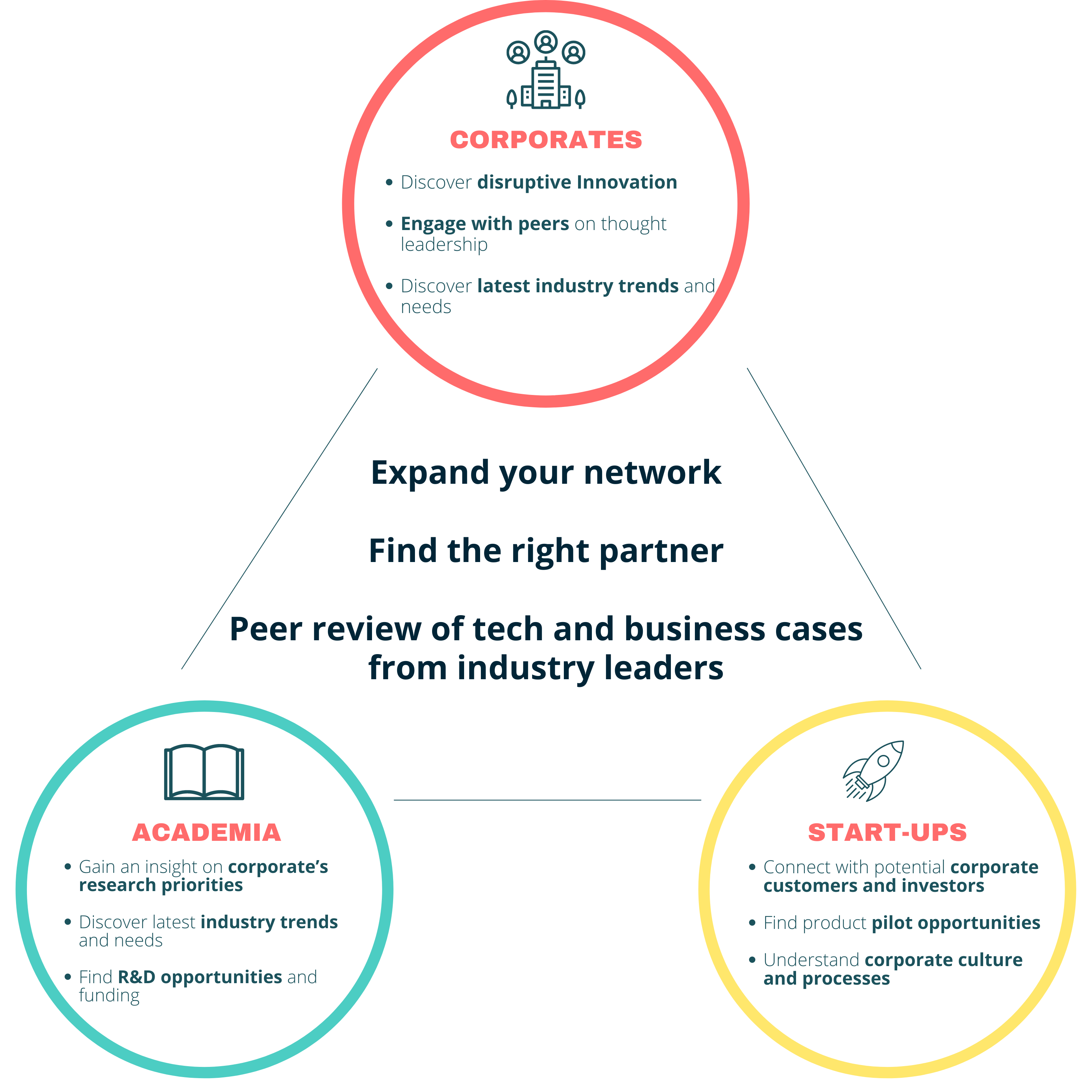 This workshops series is for high tech start-up founders, corporate senior executives and university professors / and senior scientists active in Industry 4.0 sector to ensure relevant collaboration and exchanges (no service providers). Seats are limited and priority access will be given to the mentioned profiles, as we would like the exchanges and collaborations during the workshops to be as meaningful as possible to all participants.
The 4 online workshops on Nov. 1 (hybrid), 4, 8 & 10 are complimentary and you can join the series anytime to attend a single session. The final physical session on Nov. 12 at Bois Chamblard will be available at a fee. Reserve your spot now, participation will be confirmed due to limited seats!
Nov 1

PARTNERING FOR SUCCESS
Speakers

8:30 AM - 12:00 PM

HYBRID

Overview, landscape and trends of Industry 4.0. Review of strategic benefits and challenges of collaboration models between start-ups, academia and corporates. Partnering with Research Institute CSEM and examples of partnerships from start-up and SME point of view.
Lan Zuo-Gillet, EPFL Innovation Park

Raphael Rollier, Swisstopo

Pascal Nussbaum, CSEM

Bahaa Roustom, CSEM

Albert Enste,

Federnfabrik Schmid

Stephane Poggi, FELCO
Nov 4

COMMERCIAL PARTNERSHIPS DEEP DIVE
Speakers

11:00 AM - 1:00 PM

ONLINE

Learn about start-up strategies for establishing commercial and procurement partnership with corporates and start-ups. Hear directly from Firmenich about the benefits and success of their start-up partnership programs and how they collaborate with Visium.
Christine Chichester, Firmenich Karthigan Sinnathamby, Visium

Massimo Lucchina,Cysec SA
Nov 8

TECHNOLOGY CO-DEVELOPMENT DEEP DIVE
Speakers

11:00 AM - 1:00 PM

ONLINE

Explore how to drive the digital transformation through co-development. You will hear the co-development story of start-up Miraex and Bühler Group and discover best practices for R&D with Academia
Cornelia Koller, Bühler Group

Hugues-Vincent Roy, Aisa SA

Pierre-Yves Guernier, Miraex

Nicolas Loeillot, Innosuisse Expert
Nov 10

CORPORATE VENTURE FUND DEEP DIVE
Speakers

11:00 AM - 1:00 PM

ONLINE

Find out what makes an investment strategy successful. Hear the investment story from two perspectives, Shell Ventures and startup Akselos. You will also hear about strategies for corporate buy-out and the best practices in both technology integration and company aquisition.
Peter Van Giessel, Shell Technology Ventures

Thomas Leurent, Akselos

Lan Zuo-Gillet, EPFL Innovation Park

Martin Strehl, Eversys
Nov 12

KEY LEARNINGS AND NETWORKING EVENT AT BOIS CHAMBLARD
Speakers

10:00 AM - 5:00 PM

IN PERSON

In this last session, you will hear a keynote on the "Why we call it the 4th industry revolution" from Xavier Comtesse and gain key insights from a panel discussion on the Future of Collaboration in Industry 4.0 with Jean-Luc Bazin of Swatch Group, Sonja Betschart of Werobotics and Antoine JeanRichard of Objectis. Finally, you will hear the key learnings from all workshops as well as get the opportunity to gather peer feedback for your own specific partnership case while networking in person at Bois Chamblard.
Jean-Luc Bazin, Swatch Group

Xavier Comtesse,

Manufacture Thinking

Sonja Betschart,

WeRobotics

Antoine Jeanrichard,

Objectis

Lan Zuo-Gillet,

EPFL Innovation Park

Raphael Rollier,

Swisstopo

Massimo Lucchina,

Cysec SA

Nicolas Loeillot,

Innosuisse Expert
Lan Zuo Gillet
Deputy managing Director EPFL Innovation Park
Massimo Lucchina
Member of Innovation Council
Raphael Rollier
Head of Innovation and Product Management
Simone Theiss
EPFL Innovation Park