Partnering for High-Tech Innovation in Energy
EPFL Innovation Park, Cleantech Alps and Innosuisse bring to you Tech4Growth Energy on 16-17 November, 2022 connecting start-up founders, corporate innovators as well as academic professors to learn about collaboration models and best practices.
The energy sector is booming. With the world's population growing and economies expanding, global demand for energy is skyrocketing. But at the same time, traditional sources of energy are becoming scarce and more expensive. The future belongs to products and services that can be made using less energy and commodities. Swiss academic research institutes and companies have been acting as strong players particularly in the areas of energy efficiency, renewable energy, automation and control, mobility, water, and wastewater as well as waste management and the use of new types of materials to drive the energy industry forward.
To stay ahead of the game, companies in the energy sector must develop innovative solutions that meet the challenges of the 21st century. One way to do this, is by collaborating with start-ups, corporates and academic institutions. These partnerships give companies access to cutting-edge technology and ideas, and they help to ensure that the energy sector remains at the forefront of innovation. As the energy sector continues to grow and evolve, collaboration between the stakeholders will become increasingly important for companies that want to stay ahead of the competition.
Join the leaders from the Swiss Energy ecosystem for 2 content packed days where you can hear from key players to share their experience about how to build win-win Start-up-Corporate-Academic partnerships to address challenges in the Energy sector.
Why attend?
Build a strong business network in the Energy sector
Learn from your peers and design future solutions through collaboration
Identify new opportunities of innovation
Walk away with suggestions and approaches for your next partnership plan through highly interactive in person sessions
About EPFL Innovation Park
EPFL Innovation Park is the major innovation hub in Western Switzerland. It actively develops programs to help high tech start-ups to scale and corporations to accelerate their innovation. Operating in the frontiers of cutting-edge technologies and new businesses for 30 years, it has established a strong track record in bringing high tech start-ups to success. Tech4Growth is part of its executive programs, becoming one of the networking event series of the Swiss Innovation Agency.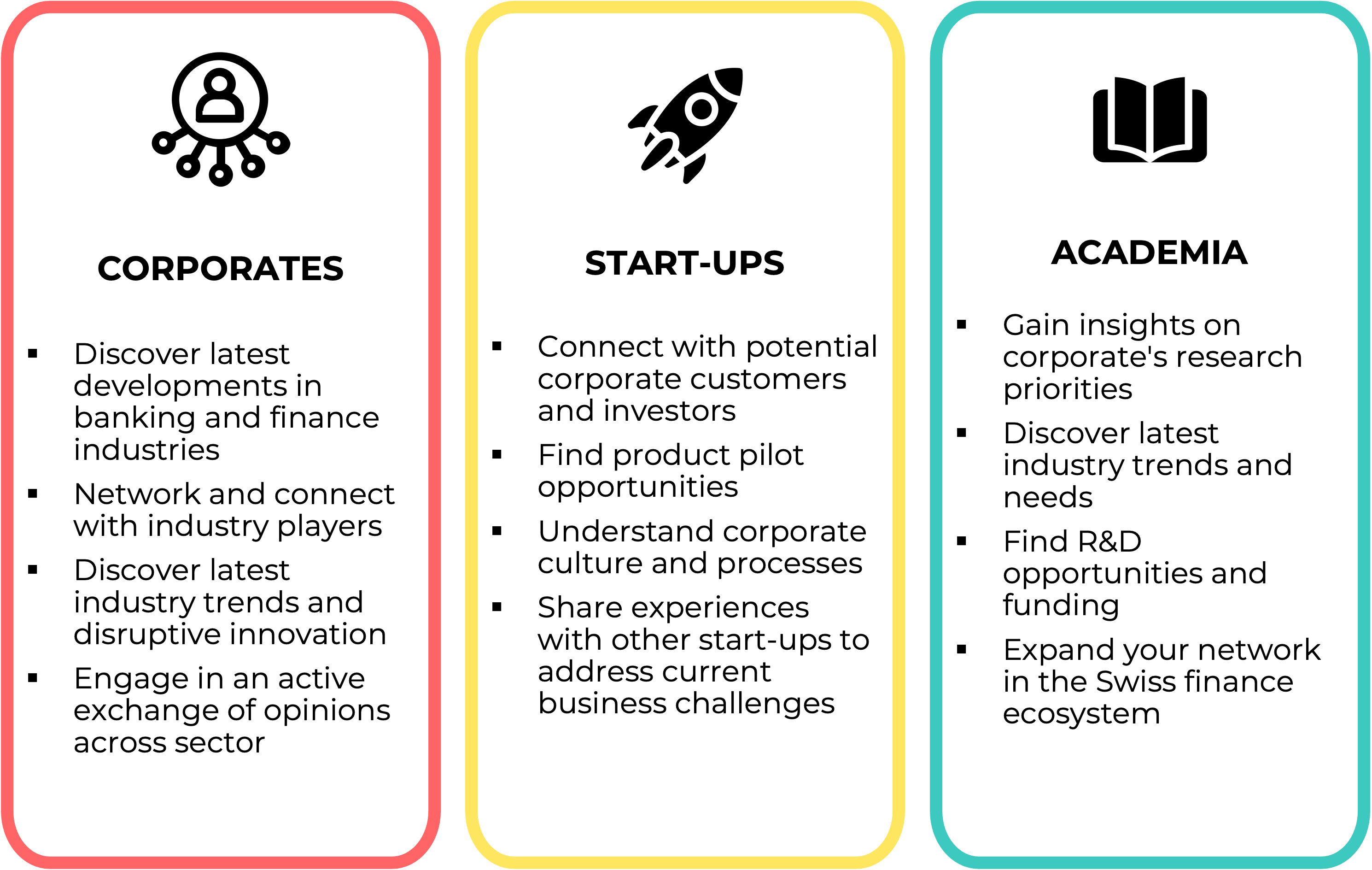 This workshops series is for high tech start-up founders, corporate senior executives and university professors / and senior scientists active in energy sector to ensure relevant collaboration and exchanges (no service providers).  This is an interactive workshop and physical session at EPFL Pavilion A, EPFL Campus, Place Cosandey, 1015 Lausanne, Switzerland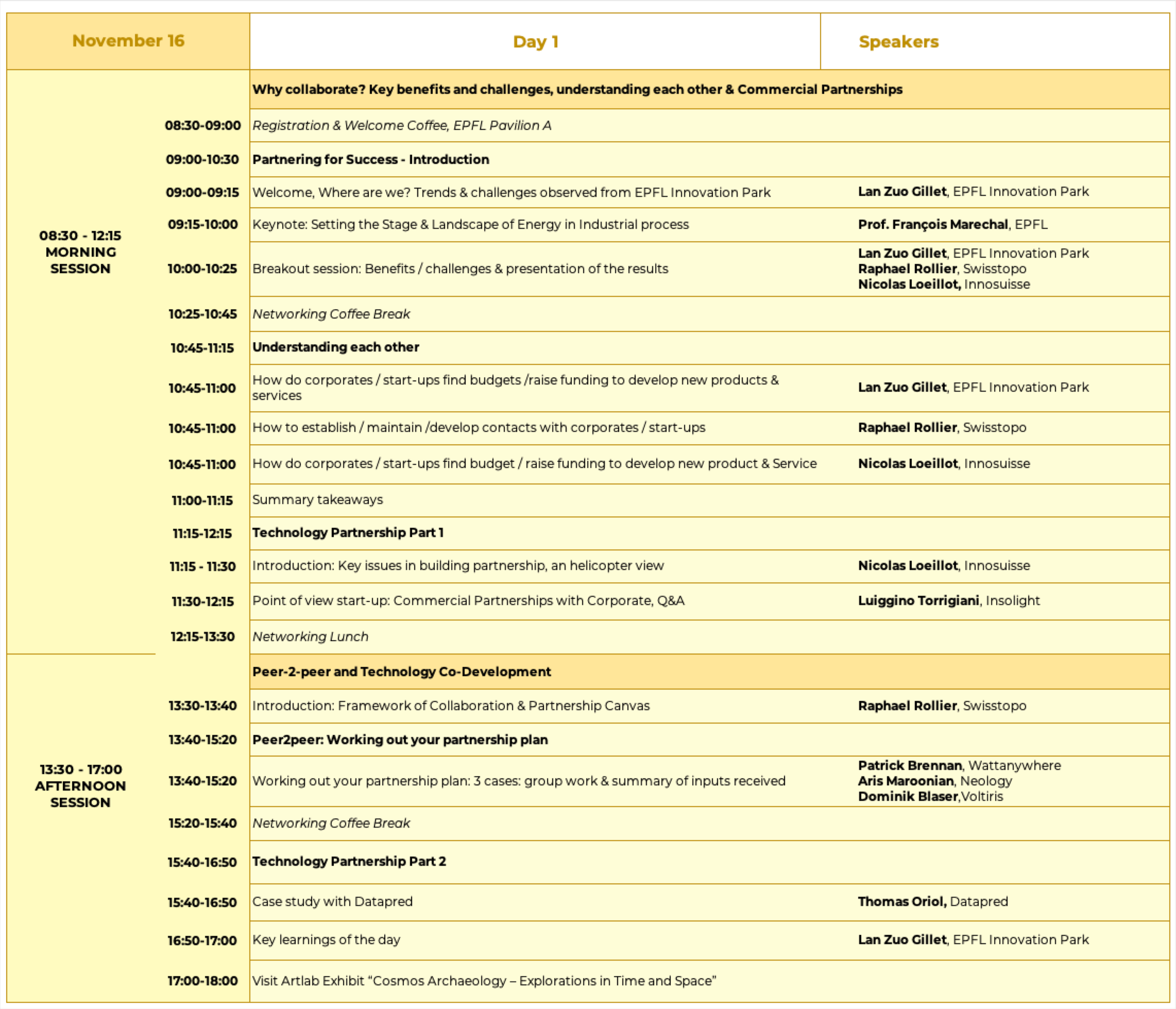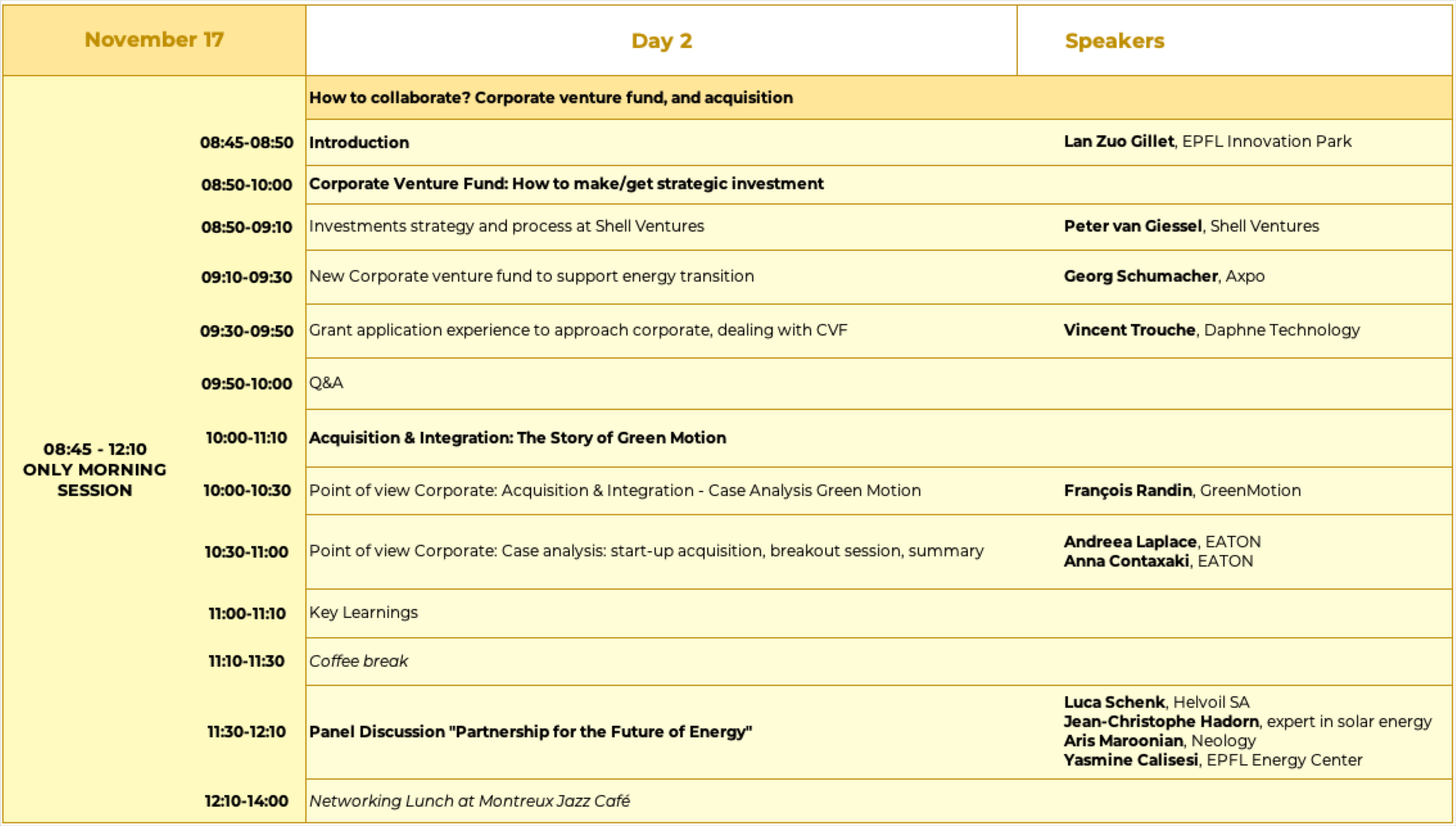 "I was thrilled to join the #Tech4Growth Energy workshop recently with my colleagues Anna Contaxaki and Andreea LAPLACE. The event gathered together a fantastic range of energy sector participants —from tech start-up founders to corporate senior executives and university academics. I was delighted to share our learnings and best practices from the acquisition and integration of Green Motion's #ElectricVehicle charging business with this diverse group."
"The combination of energy security of supply, climate protection and affordable prices needs a mix of technologies, sources and business models. Partnerships between startups and corporates of any size and of all sectors are essential to ensure motivation, innovation and capital to master the energy transition"
"Cooperation with start-ups is an important driver for innovation that enables us to do things faster, explore new approaches to our challenges, and reach our ambitious targets in a pragmatic way. We are constantly thinking about how to best execute startup cooperations, and Tech4Growth Energy provided useful insights for this thought process."
"The place where corporates and start-ups connect. If your business is to make innovation happen, whether at a corporate or at a start-up, Tech4Growth Energy is a good place to be".
"Tech4Growth Energy event was a really nice event. I especially liked the mix between breakout sessions and speeches, in this way I was able to connect to almost everyone at the event."
"I gained valuable inputs for my own business, expanded my network, and gained insights on how to effectively set up collaborations between startups, corporations and academia. I enjoyed the proposed mixed format of workshop and conference, with many great testimonials from a wide range of companies."
"Stimulating environment for peer-to- peer connections amongst energy start-ups, with a brilliant example of exit/integration of Greenmotion into Eaton. Thanks to all participants and the organisers."
"Having all the different players in the start-up ecosystem was great. To have inputs from academia, corporates, and start-ups gave a comprehensive look at how they interact and work together. I really enjoyed the real-world examples of partnerships between start-ups and corporates – i.e. Green Motion's integration with Eaton and insights from both sides. Sharing between the start-ups on experiences they have had with corporates, good and bad and how to navigate the start-up ecosystem."
Lan Zuo Gillet
Deputy managing Director EPFL Innovation Park
Simone Theiss
EPFL Innovation Park
Raphael Rollier
Head of Innovation and Product Management